It has been just over a year since Fawad Alam has been part of Pakistan's ODI squad, though he's just played 9 ODIs during this time.
Its only recently - as recent as the Kitply Cup and the ongoing Asia Cup that Fawad has been considered as a first choice in the starting XI.
Fawad hasn't been a regular in the starting XI due to Pakistan's preference in the past for playing a specialist opener or a 4th seamer with Afridi and Malik sharing the spinner's role.
Fawad's inclusion in the XI has come about due to Malik shying away from bowling coupled with the need to strengthen the lower order batting that has weakened due to Abdul Razzak's exclusion and Afridi's lack of form.
I've come across a number of people who have questioned his inclusion in the side.
I don't blame them as with a frame as small as his, it is difficult to consider him a cricketer. He doesn't look a day older than 16 and doesn't seem the sort that one would want at the crease at the end of an innings.
Don't go on the look though.
Fawad Alam's
unbeaten 63 against Hong Kong
on Tuesday showed why the selectors and the team management have so much faith in him.
Fawad walked into bat when the score was 135-4 off 22 overs. In the next 7 overs, Fawad watched Misbah, Afridi, and Sarfraz walk back to the pavilion as Pakistan slipped to 161-7.
He then shared a record 100 run 8th wicket partnership with Sohail Tanvir and remained unbeaten at the end of the innings leading Pakistan to a 288-9, something they never looked like achieving.
Ignore the fact that it happened against Hong Kong, with all due respect to them.
A situation like the one described above is tough for anyone, let alone someone who was only playing his 9th ODI.
Fawad batted with responsibility, consolidated when he had to, and accelerated when he had to. He hit only 3 boundaries yet he scored his 63 at a strike rate of over 80.
Job well done I would say.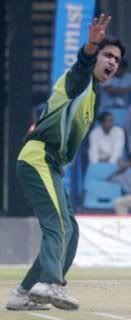 In 9 ODIs now, Fawad has batted 8 times and remained unbeaten 6 times.
Those not outs have given him a Bevan - Hussey type ODI average of 65.00. And that too with quite a healthy strike rate of 89.65.
He has usually come out to bat at the end of an innings, either during a run chase or while batting first, which explains the not outs.
It has only been 9 ODIs, but more often than not he has delivered.
The game against Hong Kong wasn't the first time that he played the finisher's role for Pakitan.
He did that in his 2nd ODI when he was given a game on Pakistan's tour of India last year. In the
5th ODI between the sides
, Fawad came to the crease in the 45th over and remained unbeaten on 32 of only 23 deliveries.
He scored 32 of Pakistan's 45 runs in the last 6 overs of the innings leading them to a match winning total.
So 2 innings does not make one a finisher then does it?
For those still not convinced of Fawad's potential, I'll take them through what made him become a part of Pakistan's ODI plans.
Lets start with his domestic record.
First Class:
39 matches, 2,655 runs at 49.16 with a highest of 151. 19 wickets at 32.68.
List A:
47 matches, 1,398 runs at 46.60 with a highest of 127. 37 wickets at 35.18.
20-20:
17 matches, 268 runs at 44.66 with a highest of 54. 21 wickets at 11.71.
Fawad first showed signs of his talent during the U19 World Cup in 2004. He led Pakistan to victory over
India in the semi final with an unbeaten 43
while chasing a target of 169. He had come out to bat with Pakistan in some trouble on 83-5.
His real shot to fame though was the 2006-07 domestic season, at the end of which the selectors were prompted to include him in Pakistan's squad after their disastrous World Cup campaign.
In the
Quaid-e-Azam trophy
(Pakistan's premier first class competition), playing for Karachi,
Fawad was the 5th highest run scorer
with 544 runs in 6 matches at 49.45 with 2 100s and 3 50s.
In the
ABN Amro One-Day Cup
, playing for the Karachi Dolphins,
Fawad was the 2nd highest run scorer
with 315 runs in 6 matches at 78.75 with 1 100 and 2 50s.
In the
ABN Amro Patrons Trophy
(first class competition), playing for Habib Bank,
Fawad was the 6th highest run scorer
with 295 runs in 4 matches at 59.00 with 4 50s.
And then came the
ABN Amro 20-20
competition where Fawad Alam starred like no other.
He was the
leading run scorer
and the
leading wicket taker
, and led the Karachi Dolphins charge into the final of the tournament.
Even though the
Dolphins lost to the Sialkot Stallions
, Fawad was the man of the match in the final with an allround performance scoring 54 and picking up 5-27.
He also picked up the player of the tournament, best batsman, and best bowler awards in the same tournament.
Still not convinced?
I am.
Fawad is here to stay and he will only enhance his reputation as Pakistan's finisher.