Besides South Africa's unthinkable act this morning, there was something else that happened in the cricket world that took me by surprise.
Kevin Pietersen scored a 100.
That's not what surprised me.
What did though was the fact that it was KP's 15th test century.
15th!?
That's what I shouted in my head.
15th!?
Really? How?
He played his 1st test only 3 years ago, and he's already scored 15 tons?
That shook me up for a bit.
So KP's been on the scene for 3 and a half years now.
In 45 tests, this is his 15th century - thats 1 every 3 matches!
Thats quite a conversion rate.
Sehwag also has 15, but in 66 matches - 21 more matches than KP's. Or to put it more aptly, in 30 more innings.
Alec Stewart took 152 innings more than KP's 83 to score the same number of centuries.
Remember Stewart, the England wicket keeper batsman?
Atherton and Ganguly have each scored 1 more century than KP in 129 and 102 more innings respectively.
Hell King Sanga has scored only 2 more in 42 more innings and compared to KP he's been around forever.
Yes yes I logged on to Cricinfo, but thats what 15 centuries in 45 tests demanded of me!
Has anyone done better?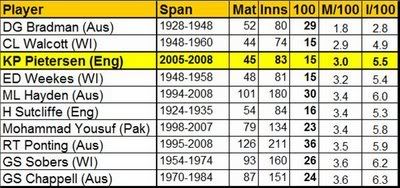 Well ofcourse. Sir Don Bradman has. 29 centuries in only 52 matches and 81 innings - 3 less than KP's.
The Great West Indian Clyde Walcott also had 15 test centuries and he got them in only 74 innings in 44 tests.
Apart from them though, KP has bettered them all.
He has scored test centuries faster than Ricky Ponting. Faster than Mohammad Yousuf. Faster than Matthew Hayden. Above all, faster than Gary Sobers!
You know what I mean by faster.
Thats an achievement and a half.
Whats more, KP's centuries have come against the best.
He hasn't played a test against Bangladesh or Zimbabwe, so no one can say he got easy runs.
He has knocked tons against all 7 major test playing countries and he has scored them all over the world.
In Australia, in India, in Pakistan, in New Zealand, everywhere he has played (besides Sri Lanka). And he is yet to play a test in South Africa, but he has 2 100s against them, scored in England.
KP has 3 centuries against India and 2 against each of the other 6 major test playing countries.
Achievement and a three quarters I reckon!