The Dubai Sports City Cricket Stadium, which will host 2 ODIs and a 20-20 match between Pakistan and Australia later this month, is one of the most picturesque cricket grounds you will ever see.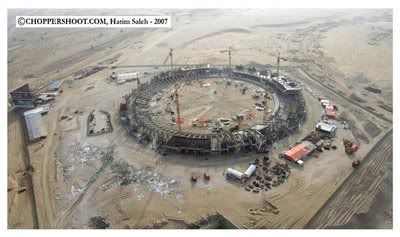 Built within the ambitious Dubai Sports City project, which is part of the mega Dubai World project, the stadium's completion has been delayed by over a year.
About 2 years ago this is all that was there where the stadium stands beautifully today.
Many hard working days later the stadium has come to life.
Over the last 2 days, the stadium hosted its first 2 matches with the UAE U19 team, preparing for its tour to Kuwait, playing against Lanka Lions and Fly Emirates.
Pakistan coach Intikhab Alam and assistant coach Aqib Javed were also present at the ground to take a note of the playing conditions.
Ask anyone and they will tell you what a "batting paradise" the Dubai wicket is.
What else could one expect.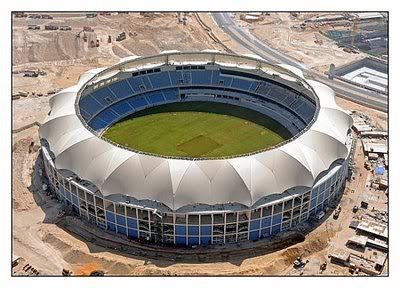 On top its a nightmare for fielders.
There are no floodlights.
The white half-roof type top you see is where the lights are and in the artist's impression below it shows you how the ground will look at night with the lights on.
Its a beauty I think.
But for the fielders looking up at a skied ball amidst the lights and the white background of the half-roof, its going to be tough.

Nevertheless, you can expect some gruelling constests between Pakistan and Australia here with 25,000-30,000 Pakistanis cheering at the top of their voices.
The excitment for the games is at its peak these days.
Tickets are selling fast and everyone is anticipating the arrival of Younis Khan, Ricky Ponting, and their men.
The Pakistan team arrives here on 13th April to play a few practice games against local sides ahead of the ODIs.
Fans are gearing up to watch those matches as well.
While Australia who came to this part of the world last in 2002 to play a test against Pakistan are also eagerly awaited.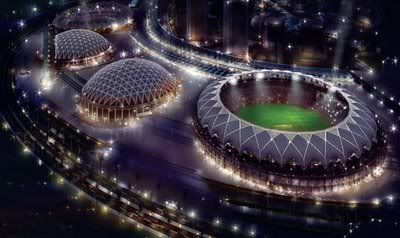 Not many here have witnessed the Aussies live and for most it will be a first time experience.
The greatest anticipation, however, is for the first ever 20-20 international to be played in the UAE.
7th May will no doubt bring together the largest and most boisterous crowd you will ever get to see here in the UAE.
Pakistan and Australia - we are waiting for you!