When the Australians arrived at the Dubai Sports City Cricket Stadium, I was in the photographers area making sure the clickers were settling down alright.
The area dedicated for the photographers was right next to the Australian players' lounge.
While I was going through my motions, out walked Tim Nielsen to set up his laptop in the position that would be his for the rest of the day.
I clicked him and then walked up to say hello.
After exchanging a few pleasantries I enquired, "So Marsh and Watson opening today?"
Nielsen's response was, "Yeah, they are", to which I replied, "Thats great! Its good to see them back playing for Australia."
He said that it definitely was. We shook hands and I went back upstairs to the media room.
A couple of minutes before the start of the Australian innings, I walked back down to the photographers area to witness the first over from close-by.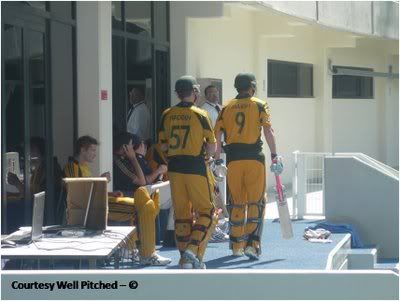 As I looked left, I couldn't believe what I saw.
It was Marsh and Haddin walking out to open the innings!
With Watson padded up, sitting, and not going anywhere.
I was slightly disappointed not to see Marsh & Watson open, but I was very disappointed with Tim Nielsen.
Mr. Nielsen, if you're reading this I want to assure you that I am not a bookie, I do not gamble, and I am definitely not a spy for the Pakistan team.
I swear!
To prove that you can ask my readers and they'll tell you what
a big fan I am of Marsh & Watson
at the top of the order.