16 days and 28 matches later, the IPL is exactly half way through the group stages and the Deccan Chargers are still sitting pretty at the top of the table, just like they were
at the end of Q1
.
Despite being at the half way mark, not all teams have played against each other, while some teams are into their return matches.
Hence, not all the batsmen have had the same number of innings.
Leading Batsmen
1. Matthew Hayden (CSK) - 6 inn, 246 runs at 41.00
2. Suresh Raina (CSK) - 6 inn, 232 runs at 38.67
3. Brad Hodge (KKR) - 7 inn, 230 runs at 46.00
4. Jacques Kallis (RCB) - 7 inn, 220 runs at 36.67
5. Adam Gilchrist (DC) - 6 inn, 210 runs at 41.80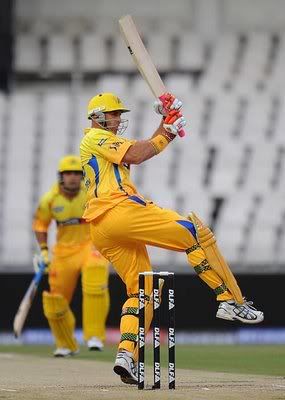 I was a bit surprised when I took a look at what I listed. 3 Australians in the top 5? I thought their stock was falling.
Matthew Hayden has been in super form in the IPL and continues to lead the runs table, just like he was doing at the end of Q1. I see him walking away with the orange cap this season.
Adam Gilchrist holds on to his 5th position, which he had at the end of Q1, but ony just. Sachin Tendulkar, who has dropped out of the top 5, is breathing up his neck with 1 run short, while Gibbs, Dilshan, and Duminy are not far behind.
Brad Hodge has really turned the heat up in his last 2 games. Finally, he has learnt the art of scoring in the IPL. He is the highest run scorer in all 20-20 cricket, but till now he had not shown a similar run of form in the IPL, till his two knocks of 70 odd that have led him to the 3rd spot in the list of highest run getters. Though he hasn't done KKR any good who are still perched at the bottom of the table.
Another surprise, or should I say shock, is seeing Jacques Kallis perched at number 4. He has overtaken his more illustrious South African team mates - Herschelle Gibbs and AB De Villiers - both of whom have dropped out of the top 5. His form has been instrumental in taking the Royal Challengers into the top 4.
Suresh Raina almost scored the 2nd century of the tournament but a scoreboard malfunction denied him. His 30s and 40s in Q1 have been converted into higher scores in Q2, yet he nor Hayden have been able to get the Super Kings into the top 4.
Moreover, its slightly surprising not to see anyone from the Delhi Daredevils or Kings XI Punjab in the top 5, considering that they are well placed to make it to the semis.
Leading Bowlers
1. Yusuf Abdullah (KXIP) - 7 inn, 14 wickets at 12.78
2. RP Singh (DC) - 6 inn, 12 wickets at 11.33
3. Lasith Malinga (MI) - 6 inn, 11 wickets at 9.75
4. Pragyan Ojha (DC) - 6 inn, 10 wickets at 12.40
5. Laxmipathy Balaji (CSK) - 5 inn, 10 wickets at 12.50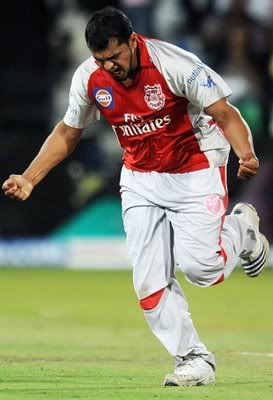 The top 4 wicket takers are the same as they were at the end of Q1; they have only swapped places with Yusuf Abdullah taking the lead over Malinga, RP, and Ojha.
Abdullah has bowled magnificently in the last few matches and he has been behind Kings XI's late surge to take them into the top 4.
RP and Ojha continue to impress for the Chargers, while Malinga's pace has been too hot to handle for a number of the batsmen.
Balaji's 4 wickets against the Royals has led him into 5th position but there are a number of bowlers right next to him.
Kumble is equal on 10 wickets, while Munaf Patel, the man Balaji replaced at 5, Ashish Nehra, Irfan Pathan, and Ishant Sharma are just a wicket behind. And Praveen Kumar is sitting on 8.
Looks like the India bowlers like to stick together - from Ojha to Praveen, its all of them.
The biggest surprise for me in these lists is that no one from the Delhi Daredevils or the Rajasthan Royals is in there. And none of them look like making it either. Yet Delhi are placed 3rd in the points table.
Other StatsHighest Team Score
: 189-5, DDD vs CSK
Highest Individual Score
: 105*, AB De Villiers (DDD) vs CSK
Best Strike Rate
(min 100 runs)
: 161.90, Dwayne Smith (DC)
Most Sixes
: 13, Adam Gilchrist (DC)
Best Bowling Performance
: 5-5, Anil Kumble (BRC) vs RR
Best Economy Rate
(min 12 overs)
: 4.83, Lasith Malinga (MI)
No one has been able to surpass Delhi's 189 or AB De Villiers 105* yet, nor has anyone been able to pick up more than 5 wickets in a match. With the way the pitches have been behaving, I doubt the batting records will be surpassed.
But another 5 or 6 wicket haul cannot be counted out.
Adam Gilchrist still leads the sixes tally, with Raina, Yusuf Pathan, and Rohit Sharma closely behind.
Malinga continues to be the most economical bowler, despite what Kallis did to him last night.
Can Malinga climb back to the top of the bowling list or will Abdullah cement his place there?
Who will win the race to the top between the team mates - Hayden and Raina?
Will the Chargers continue to remain at the top?
Will the top 4 teams remain the same?
In another 9 days, Q3 will end, and Well Pitched will have the answers for you.