A few days back we reported about the
launch of the Mongoose
.
Last night, the Mongoose made its official on-field debut when Stuart Law called for it in the middle of his innings for
Derbyshire, who were playing against Durham
, in their first game of the Twenty20 Cup this season.
Law began his innings with the long-bladed version of the bat; once he was settled at the crease and batting on 32, he called for the shorter-bladed Mongoose.
Once armed with the Mongoose, Law faced 6 further balls and scored 10 runs, including a towering six over mid-wicket before he was run out with one ball of the innings remaining.
Speaking after his innings Stuart Law enthused,
"I obviously felt a bit of pressure going into the game that I wanted to give the Mongoose a good first outing. Fortunately, I was able to get well set and was seeing the ball well. With twelve balls left and looking to press on, it was Mongoose time."
Watching nervously from the grandstands was the Mongoose's inventor, Marcus Codrington-Fernandez who apparently was more nervous about the bat making its debut, than he was at his own wedding: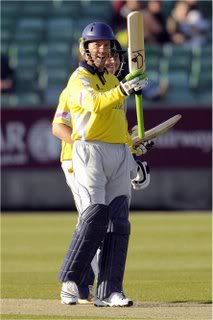 "Like every batsman, I am absolutely thrilled to be off the mark. Both in advance of the game and at the moment that Stuart called for the bat, I was absolutely terrified – more nervous than on my wedding day! It's a huge relief to be underway and in suitably dramatic fashion."
Now that Stuart Law has used the Mongoose in first class cricket and shown the world what can be done with it, can its international debut be far off?
Could we possibly see the Mongoose as soon as the ICC World Twenty20?
We'll just have to wait for that and find out.
If you're interested in using the bat, you can get your own over at
Mongoose Cricket
.
Press Release, Quotes, Pictures courtesy of
Performance PR
.