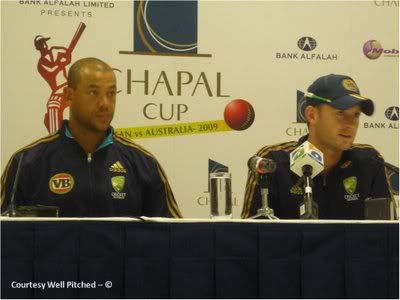 Prior to today, I had attended 4 press conferences during my stint at Dubai Sports City - 2 each with the captains, Younis Khan and Micheal Clarke.
All 4 times the captains were accompanied by the coaches, Intikhab Alam and Tim Nielsen.
However today, at the post-match press conference, Micheal Clarke was accompanied by Andrew Symonds.
I'm not sure whether it was because of a request from some of the Aussie journalists that were there; or whether it was an initiative taken by the Australian team management.
Either way, what that did was turn the entire attention of the press conference room away from the Australian captain and on to Andrew Symonds.
He was asked all sorts of questions regarding his comeback and his time out of the team.
"How did it feel like missing all those games for Australia?"
"Do you feel vindicated by the innings you played today?"
"Do you think you have silenced your critics by today's knock?"
"Were you upset at missing all the cricket during your time out of the team?"
"How important was today's knock for you?"
"Do you think this series was a trial for the Ashes for you?"
In response, Symonds basically said that it was frustrating sitting out of the team, he felt helpless watching the team lose without being able to help out, its great to be back, he's pleased with the knock he played today and with the fact that it came early in the series than later, and that it was an important knock considering that he was coming back into the team.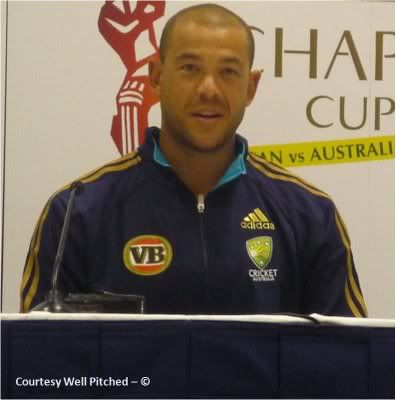 To the critics question, he smiled and said that he was too old to worry about his critics cause there were so many of them.
That comment was met with laughter around the press conference room.
One journalist from Dawn asked Symonds whether today's knock compared with his century against Pakistan in the 2003 World Cup, which brought him into the limelight.
While that question was being asked, Symonds and Clarke had a smile on their faces and as the journalist finished the question Symonds responded with a "No."
That was met with even more laughter. You had to be there to see the funny side of that answer. It was the timing.
He then went on to answer the question by saying that he understood what was being asked, but both the knocks were quite different given the phase he was in, in his career.
Micheal Clarke was asked only 2 questions during the entire press conference.
The first one was about how he felt regarding the victory.
The second one was by an Aussie journalist, Andrew Stevenson, who mentioned to Clarke that Younis Khan thought (during his press conference) that Australia was still the number 1 side in the world and asked what Clarke thought about that.
While asking that question, Stevenson pointed out that Australia had lost 10 of it 16 ODIs during 2009.
Clarke's response was, "We would like to believe that we are the number 1 side, especially after a win. Its a huge compliment when the opposition says this about you and moreso when its the opposition's captain. We still need to improve in a lot of areas such as our fielding."
During that time I kept thinking - 10 losses out of 16? Damn!
I guess with Symonds back and in form, that stat will definitely improve.