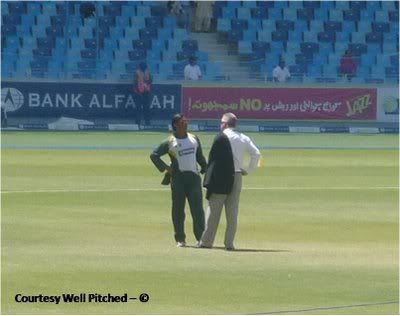 5-1-24-0
Another 5 overs on the trot.
That included a starting maiden. A few beauties those were.
That too after a quickfire 20 odd.
What smashing hitting.
His was an Afridi like innings, while the real Afridi played a sedate 41 odd 40.
All those claims about Shoaib Akhtar being fit and passing a fitness test have been proven.
He has failed to pick up a wicket in the series so far but he's managed to play 2 ODIs in 3 days, in which he's managed opening spells of 5 over each.
Thats an achievement for Shoaib Akhtar.
He's 40% through his target of playing all 5 games.
Lets see if that holds up or not.
If it does, it'll good to see him take a few wickets as well.
I wonder what Dean Jones and him were discussing before the start of play of the 1st ODI.