Dubai Sports City arranged a tour of their new cricket stadium for the media yesterday.
All the press people were invited and taken around the stadium, before they settled down in the press conference room and waited for
Micheal Clarke and Tim Nielsen
.
Here are a few pics from that tour.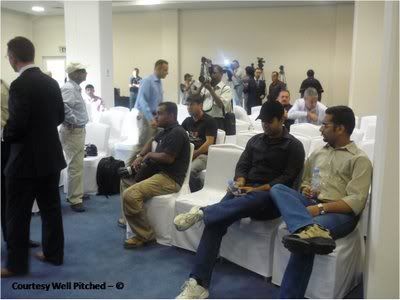 The press wait, in the press conference room, for the Dubai Sports City officials to start the tour.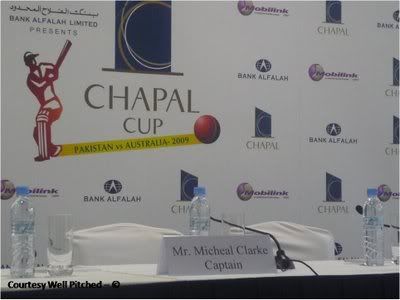 The table is set up for Micheal Clarke
The press takes a walk in the corridors - from the media centre to the TV & Radio commentary boxes to the 3rd umpire room and onwards to the corporate boxes.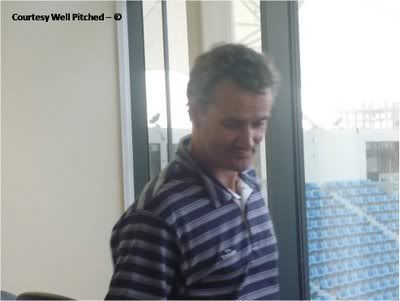 Billy Bowden enters the 3rd umpire's room.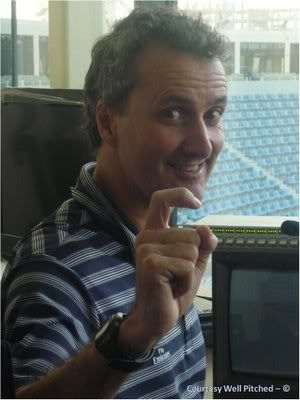 I requested Billy for a pic and he was out with his best pose in a second! He's umpiring the 1st ODI on Wednesday.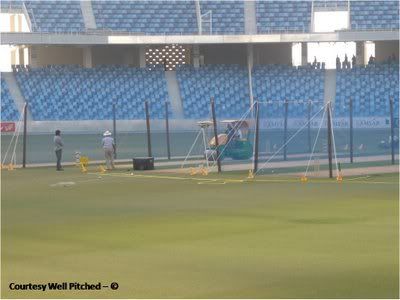 The square being worked on by the groundsmen. They're calling it a batting paradise.
The Security waits, outside the players' room, for the Australians to arrive.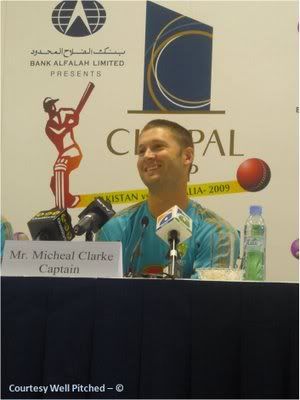 Micheal Clarke smiles as Tim Nielsen mentions that Symonds makes a few dollars playing for Australia as well.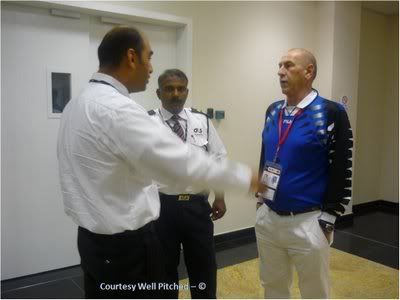 The ICC's Anti Corruption & Security Unit's head, Retd. Col. Nur Khan, gets a brief from the security men on the arrangements.
The Australians arrive at the stadium.
Clarke had already finished his press meet and was waiting in the players' lounge. Shane Watson (in flip-flops), was in front of the line along with this man whom I did not recognize.
I managed a word with Watson, Symonds, and Marsh and basically said the same thing to all of them - Welcome back to the Australian team. I was met with smiles and thank yous with Symonds having the biggest smile of all.
Arrogant Aussies? What arrogance? Not even a hint of it.
Stuart Clark is HUGE!
And Bracken is taller than I imagined.
There were a few guys I did not recognize - probably Callum Ferguson and Doug Bollinger.
As Symonds walked into the ground, someone threw a ball at him. I'm not sure who it was.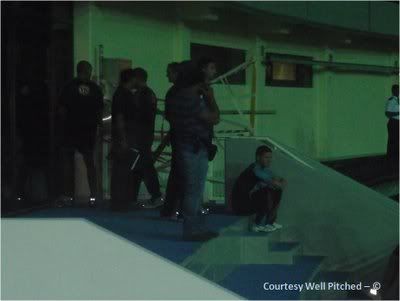 Micheal Clarke looked like a lonely figure sitting on the steps outside the players' lounge. That's Shaun Marsh standing right behind him. You can also see Symonds going back into the lounge.
The players waited for the lights to come on, did a few light excercises and some fielding drills. They have a full fledged practice session tonight.