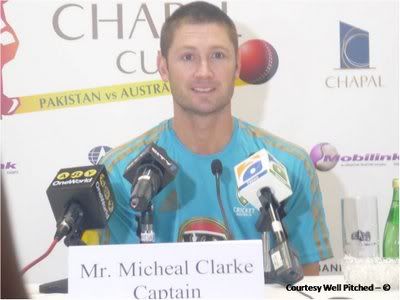 The Aussies landed in Dubai early this morning, many of them for the first time ever.
Micheal Clarke, captaining Australia in a full series for the very first time addressed the media this evening.
Unlike Younis Khan's press conference, this one was held at the press conference room of the Dubai Sports City Cricket Stadium.
Like Younis, Clarke also praised Dubai Sports City and talked about how amazing the facilities were.
This is Clarke's first visit to the UAE and he said that he looked forward to playing in Dubai and Abu Dhabi for the first time.
He seemed relaxed and said that he was very proud to be leading this group of players in a full series for the first time.
There are a lot of firsts in there - first time in the UAE, first time in Dubai, first time in this stadium, first time captain, first time ...
The journalists however believe in first times and they sure as hell believe in second times and third times as well.
Younis Khan, the other day
, was repeatedly asked about Shoaib Akhtar. Similarly Clarke was repeatedly asked, "Why Australia don't tour Pakistan".
Clarke dodged the question several times but the journalists kept coming back at him by phrasing it differently.
"What are your thoughts about touring Pakistan?"
"Don't you wish you were playing Pakistan IN Pakistan?"
"Do you think Australia will ever tour Pakistan?"
"How does it feel to be playing Pakistan in their home series in a foreign country?"
Hell, they even asked him what he thought about the World Cup being taken away from Pakistan!
Clarke handled it very well I thought, wihtout responding directly to any of those questions.
He said that he looked forward to playing against Pakistan. He praised the Pakistan cricket team and said that he thought they were a very strong side. He also mentioned that it was unfortunate that they had not played against them very often in the recent past. He talked about how the weather and the crowd here would make Pakistan feel at home. And he said that 2 years was a long way away and he hadn't even thought about the World Cup.
But the journalists still didn't back off.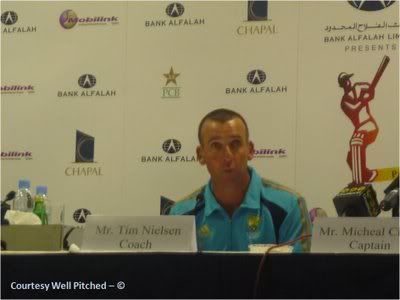 They started directing the same questions to Tim Nielsen, the Aussie's coach, mentioning that he was in Pakistan with the A team in 2007 and what he thought about the situation.
Tim was a bit more direct than Clarke though.
He said that it was unfortunate that the series was not happening in Pakistan but this was the only way that Australia were going to play Pakistan and he's happy that Dubai offered to host the series.
He added that neutral venues like Dubai ensure that Pakistan continue to play international cricket as nobody would like to see Pakistan not play, hence it was the best option.
And he ended by saying that he loved it there in 2007.
Aptly pleasing the press!