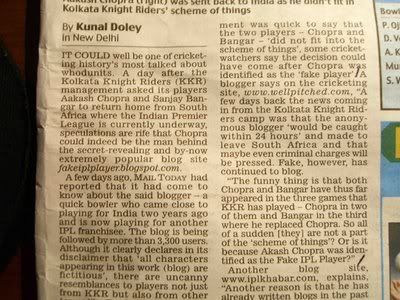 Here it is, thanks to
NC
.
First the Fake IPL Player increases the daily hits on Well Pitched.
Actually I should say phenomenally increases them by multiple times!
Then the Fake gets Well Pitched into the Mail Today.
He maybe be detrimental to Kolkata Knight Riders and the other IPL teams, but to us, and I'm sure to other blogs, he has been great!
The
Fake IPL Player
has created the type of frenzy that I have not witnessed before in the online world.
The best part is that he continues to entertain and his identity continues to remain a mystery.
For the sake of the bloggers, I hope it remains that way!