It was Pakistan vs Pakistan A but it could have easily been mistaken for Pakistan vs Australia.
Pakistan are so eager to play against Australia that they tried to simulate the match today.
Besides the 15-member Pakistan squad, 11 reserve players are also in Dubai to help prepare Pakistan for the upcoming Chapal Cup against Australia.
The 26 players took to the field on Tuesday in a day-long practice session at the newly built
Dubai Sports City Cricket Stadium
, which will host its first ever ODI on 22nd April.
Today the players turned out to play a practice match, with the Pakistan A side dressed in Australia's gold colors.
Surely wearing Australia's colors does not make Pakistan A the same kind of opposition, but it was match simulation at its best.
I don't have the result of the match yet, but I do know that Pakistan A batted first and posted 255-7 in their 50 overs.
Fawad Alam, who is a part of the Pakistan squad, turned out for Pakistan A and top scored with an attacking 76.
And surprise, surprise - Shoaib Akhtar recorded figures of 9-1-44-1.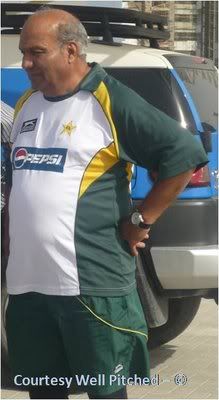 For Pakistan the Chapal Cup is a home series and they have arrived in Dubai 10 days prior to the first match in order to get accustomed to the conditions.
They're definitely utilizing these days to full effect.
A practice session, a simulated match, what's next?
Intikhab Alam, at the
press conference
, said that after taking a look at the DSC Cricket Stadium he felt like turning his arm over - maybe we'll witness that in the coming days.
Pakistan lacks a quality leggie anyway, maybe Intikhab can make a return to playing days at 67.
He'll get through it better than Shoaib I reckon!