"Which of the IPL franchises will become Twenty20's equivalent of Manchester United, Real Madrid or LA Lakers?"
That is not me asking you. The CEO of MTI Consulting asks that in a new report on the IPL titled,
IPL Brand Value Scorecard 2009
.
The report is a joint effort between
MTI Consulting
and
Intangible Business
, and presents the Brand Valuations of the 8 IPL franchises.
The report is quite an interesting read as are the results of the Brand Valuation Excercise.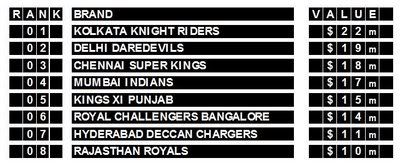 Surprised? So was I!
Well atleast the Kolkata Knight Riders are topping some sort of table.
But one surely raises an eyebrow when they see the worst performing team of IPL 2009 at the top, no matter what the excercise, and the defending champions right at the bottom.
MTI Consulting and Intangible Business explain this by stating that on-field performance hold no bearing over the valuation of a brand.
That does sound slightly strange considering that the valuation excercise is that of sporting entities, hence how strong or how good a team is should have some bearing on its value.
That is not the case however. The value being calculated is of the brand name, in a way the business entity that a Kolkata Knight Riders or Delhi Daredevils is, rather than the cricket team.
Hence the factors that go behind calculating the value of these 8 IPL franchises are things like their ability to engage with local communities, star power, media exposure, international relevance, ability to generate future income, public interest, and so on.
So what MTI Consulting and Intangible Business did was gather data regarding the teams such as website visits, match attendance, TV viewing figures, and other things.
They say this was publicly available data, and all from 2008, hence the Fake IPL Player plays no part in the calculation of KKR's brand value.
Well atleast Shahrukh Khan has something to smile about!
The whole methodology, the data used, what it means, and the rankings with explanations in detail can be seen in the full report, which as I said is an interesting read.
You can
download it from here
, or send me an email on
wellpitched@gmail.com
and I will mail it to you along with the quotes from the directors at MTI Consulting and Intangible Business.