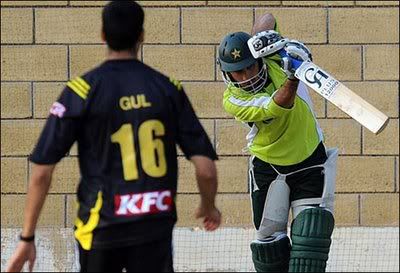 Prior to the series against Sri Lanka, he had just returned to Pakistan after a successful stint with Western Australia, whom he represented in the KFC Twenty20 Bash, Australia's domestic 20-20 competition.
He was spotted wearing the Western Australia colors during one of the team's practice sessions.
Showing people your Aussie colors Gul?
Well he has every reason to.
The Twenty20 Big Bash is still going on. The final is tomorrow. Gul has been back in Pakistan for 10 days now. Yet he's still the
leading wicket taker of the competition
.
Shows why he's one of the finest when it comes to 20-20.