The Dubai Sports City Cricket Stadium that is!
The public will witness the
Ring of Fire
for the first time tonight as Pakistan clashes against Australia in the 1st ODI of the Chapal Cup Series.
Both the teams have been practicing hard and held their final net sessions yesterday with the Aussies getting a hit in the morning and the Pakistanis in the afternoon.
The stadium is gearing up to host its first international matc, which will be underway in less than 3 hours.
I still haven't walked down to the stadium and am sitting at the Dubai Sports City head office handing out media passes.
I hear that the teams are on their way to the ground.
The Australians are staying really close by so they'll be there in a bit. The Pakistanis are bit further into the city and I guess will take their sweet time.
The news coming through though is that Shoaib Akhtar is fit and ready to go.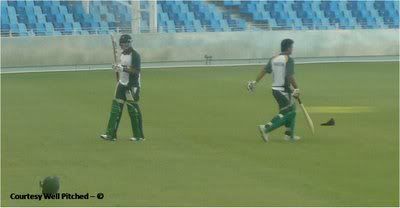 A few days ago he vouched that he will play all the matches of the series and that he will prove his critics wrong.
Well we will only know if he lives up to his word over the next few days.
Jrod posted this pic
of Shoaib Akhtar practicing with a big bandage around his shin.
I've seen the Pakistan team practice all week and that bandage is truly there.
What that is for though, I have no idea.
A number of the Pakistanis are looking forward to going up against the Aussies today.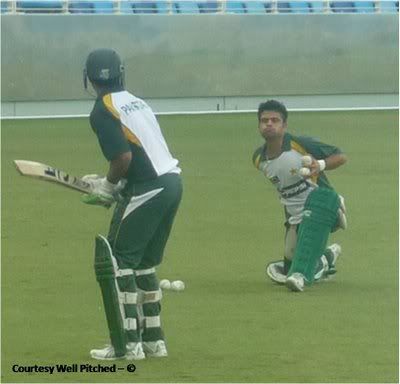 None more than the openers - Salman Butt, Nasir Jamshed, and the 18 year old Ahmed Shahzad.
Only 2 of them will play and it looks it will be Salman and Nasir, but all 3 of them have been training hard and together.
They have had their own dedicated net and have continued to practice outside the nets lobbing balls to each other.
The spinner oriented attack that Intikhab Alam spoke about is also going ahead. Saeed Ajmal is set to play and will get his support from Shoaib Malik and Shahid Afridi.
On the Aussie front, all the comback players - Shane Watson, Shaun Marsh, Stuart Clark - are fit and raring to go.
Watson and Marsh are set to open the innings today, while Clark will be sharing the new ball with Bracken.
Its a batting paradise out there and I'm looking forward to a high scoring match, unless the Pakistanis have one of their kind of days.
Nevertheless, its the first international in this Emirate and its surely something to look forward to!
My next update will be from inside the Ring of Fire!