Thanks to Raj, we might be on to the biggest scoop ever regarding the Fake IPL Player.
After
Fake's shady disclosure
, we had
this post up
, which resulted in quite a discussion.
During that discussion, Raj mentioned
Son of Bosey
and how he had been hired by Shah Rukh Khan last year to do some stuff for the
Kolkata Knight Riders official website
.
I had not heard about Bosey before tonight, till Raj pointed me to it. They are an Indian humour site, and are apparently doing some work on Cricinfo's Page 2 as well.
Coming back to Bosey, SRK, and KKR.
According to this post
, dated 18th April 2008 (the day last year's IPL began), Bosey was hired by SRK to create spoof magazine covers, ads, and newspaper articles for the KKR wesbite.
When you click on the links provided by Bosey for these spoof creations, you will notice the URL of the KKR website, but you will also notice, "Page Not Found".
Well that is because these spoof mag covers, ads, and articles were not well received by other IPL franchises, cricketers, and officials.
This unapproval of the Bosey spoofs is witnessed in the exchange of comments between Anand and Raj, in the post that I have linked to above.
Hence, these spoofs were discontinued and the whole idea died down. Even the ones created were taken off the KKR website.
Based on this, Raj concluded that it was possible that since an official idea to make fun of cricketers in the IPL did not take off last year, SRK tried to do it again this year, albeit unofficially.
Unofficially through the damn Fake IPL Player!
Now it maybe far fetched for Raj to think on those lines, but to me it makes a lot of sense. Connect the dots and you can see the potential link of the Fake to SRK.
And we're not the only ones who have suggested this link. Many
other bloggers
have also hinted that it could very well be a journalist on the SRK payroll.
Maybe the shady disclosure, in which the Fake IPL Player signs off with a title of an SRK movie, is a subtle hint that he is in fact on the payroll of SRK.
Doesn't sound far fetched to me at all.
That is one scoop; we at Well Pitched have another.
Bosey's spoof ads, mag covers, and articles are no where to be found on the KKR website.
However, as soon as I read Bosey's post about what he was doing for SRK, I remembered that last year I had downloaded some stuff from the KKR website.
So I dug deep into my archives and old external hard drives and was pleasantly surprised at my memory.
I had in fact downloaded all this stuff last year. Here it is, take a look for yourself as to why all this was discontinued.
The Spoof Magazine Covers and Newspaper Articles: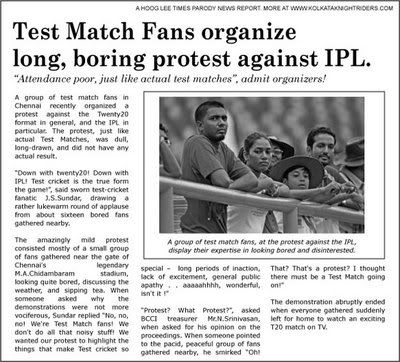 And there's more where these came from.
So then. What do you think?
Is the Fake IPL Player a Shah Rukh Khan employee?
A journalist actually travelling with the Kolkata Knight Riders?
After taking a look at what SRK attempted last year and the fact that it was discontinued, I believe that the Fake is most probably that - one on the SRK payroll.