In my
brief preview
for the 20-20 match between Pakistan and Australia, I mentioned something about Umar Gul and Shahid Afridi.
What I said exactly was:
"Umar Gul and Shahid Afridi are very dangerous 20-20
bowlers and will be worth their weight tonight."
Little did I know how much weight the two would have on the outcome of the match.
Gul and Afridi completely demolished the Australians.
Initially it looked like Watson would take the game away from Pakistan, but Gul got him first ball.
Afridi then just turned the whole match on its head with wickets of his first 2 deliveries.
That too big wickets of Hopes, who had been in great form with the bat during the ODIs, and Symonds.
When I said Gul and Afridi were very dangerous 20-20 bowlers, I was speaking from what I had seen from them in the past.
They have always delivered in 20-20 cricket and both of them were the driving force behind Pakistan reaching the final of the 20-20 world cup in 2007.
It is not a surprise that Gul and Afridi are the
leading wicket takers in 20-20 Internationals
.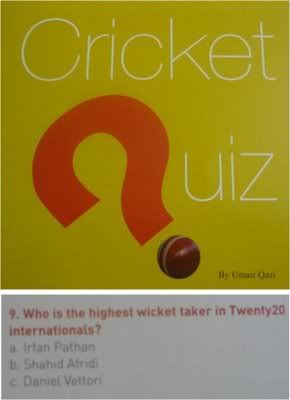 While I was working on the Dubai Sports City Magazine, which was distributed during the match tonight, I prepared a "Cricket Quiz".
One of the questions that I included in the quiz was, "who is the highest wicket taker in 20-20 internationals?"
The correct answer to that was Daniel Vettori.
Little did I know that both Umar Gul and Shahid Afridi will overtake Vettori during tonight's match!
Collectively, Gul and Afridi had a part to play in 9 of the Australian wickets that fell - it was only apt then to give them a joint man of the match award for they truly were the men of the match.
The men that destroyed Australia.
LIB, a regular reader of Well Pitched who was there at the match today as well, pointed me towards the
match bulletin on cricinfo
by Sidharth Monga.
Monga says:
"Australia had fielded almost a second XI, and played like that."
Now now Monga, I suggest checking the facts before claiming that.
9 of the Australians
that fielded today are a part of Australia's
20-20 World Cup squad
.
Plus atleast another, in Callum Ferguson, should have been a part of that squad;
many Australians
will agree with me on this.
Not only that, but atleast 7 of them are sure shot starters in any 20-20 match that Australia plays.
That Monga, does not make a 2nd XI.
Had the result been any different if Ponting, Clarke, Mike Hussey, and Mitchell Johnson been playing?
I doubt it.
Umar Gul and Shahid Afridi would have still devoured them!